RECENT HISTORY
In 1986 David Normoyle, great-grandson of the original founder, re-established F & D Normoyle Engineering as a registered company.
David, recently married to Forooz, discovered a brass plaque extracted from an old wagon. The plaque was engraved with the name F & D NORMOYLE YOUNG. This presented a nostalgic link to the past for David's own engineering business and so F & D Normoyle Engineering Pty Ltd was formed.
F & D Normoyle Engineering Pty Ltd, trading as Normoyle Engineering, began working out of a small garage in Bondi Junction with a 4-inch grinder and a 240 Volt stick welder as the only pieces of plant.
From this, F & D Normoyle has grown into one of Sydney's largest and most successful engineering companies in our industry, successfully completing large-scale projects for clients such as Leighton Holdings, Thiess, Bovis Lend Lease, Lend Lease Project Management and Construction, John Holland, Thiess John Holland, Laing O'Rourke and A W Edwards.
EARLY HISTORY
F & D Normoyle Engineering Pty Ltd was founded in 1890 in Young, New South Wales by Dave Normoyle('Old Dave'), an Irish coach builder and blacksmith newly arrived from Adare in County Limerick with his wife, daughters and three sons, Frank, Dave, and Jim.
Old Dave, a keen gambling man with never less than one thousand pounds sterling in his wallet, would regularly catch the train from Young to Sydney for the Wednesday race meetings.
Once in the ring he would stand on a box and take book, calling out to the punters "from the bush, from the bush". Old Dave eventually retired permanently to Sydney, where he owned several houses, and lived close to the Randwick racecourse in Kensington.
Sons Frank and Dave remained in Young to run the blacksmiths shop whilst their flamboyant brother Jim relocated to Sydney and eventually become one of Sydney's leading Milliners. Frank subsequently left the 'smithy' and joined his brother in the millenary business, opening and running a successful factory employing over 300 staff in Brisbane, Queensland.
In Young, Dave introduced the town's first electric welding machines and gas cutting. A staunch Catholic, he married a Methodist girl, Marcella Penson. In the days, the church did not approve of mixed marriages and the ceremony was conducted behind the altar.
Dave and Marcella gave Birth to John (Jack) and Marie. Marie passed away at the tender age of seven.
Dave, the quintessential Catholic, would finish playing cards (Canaster) at 6.00 AM on a Sunday morning, walk past his house, collect his son Jack and proceed on to 7am Mass at St Mary's.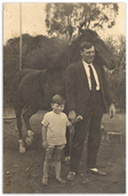 Regularly after Mass, Dave would proceed to his shop and perform the daring feat of holding a live electrical cable in his hand as he writhed and jolted in the middle of the road. He embellished the performance by striking the cables together, creating cascades of sparks to the raucous applause of his audience. His saviour was a plank of wood, a pair of rubber-soled boots and DC current.
Meanwhile, young Jack would return home after Mass so that Marcella could prepare him for further spiritual enlightenment by attending the Methodist service. And so it went for several years. However, Marcella, was racked with guilt over the death of her only daughter. Convinced the lord was punishing her for not being Catholic, she eventually converted to Catholicism and played the organ at Mass on Sundays, a practice she continued until her death at age 94.
F & D Normoyle Young was well established to take advantage of the growing crop and pastoral expansion in NSW. Bob Hadlow, author of a book on horse drawn commercial wagons published at the time, wrote that F & D Normoyle was the second-largest maker of vehicles in NSW. Bennett of St Mary's being the largest.
According to Hadlow there are two features that separate Normoyle from the other makers. The first was the sheer variety of wagons and vehicles produced by Normoyle, unequalled in the State. The second was the linkage mechanism, which was of such a unique design that it is possible to tell Normoyle wagons apart from all others by looking at this feature alone.
The coach building and blacksmithing business receded with the advent of the motor lorry. Dave passed away at the age of 47 and his son Jack, then 19 years old, took over a business employing 10-20 men.
Jack Normoyle moved the business to new premises on five acres, allowing room for future expansion. F & D Normoyle needed to undertake new types of work and it was in the area of on-farm storage that Jack began to direct the company. Sturdy on-farm storage sheds were fabricated and erected in the district of Young in the 1940s and 1950s, and many still remain today. In addition, a range of prefabricated transportable on-farm grain storage silos established the company as a leaders in this field nationally.
Large contracts for bulk storage, grain-handling facilities followed as the Grain Elevator Board and NSW Rice Board carried out major storage expansion programs throughout the State. This work established Normoyle as a major structural fabricator. The infrastructure development of Canberra also played an important role in the Growth of the Company in this period.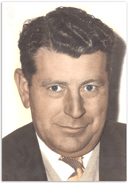 As a young boy, Jack's eldest son David set out with his father on Saturday mornings from the town of Young to visit the many construction sites the company was servicing in remote locations, including Koorawatha, Cowra, Dubbo, Leeton, Temora, Junee, Bogabri and Mikbri.
On 23 September 1970, Jack Normoyle, the husband of Marie (nee Breen) and father of six children, died at the age of 47 years. David was 13 years old at the time of his father Jack's death.
David and his brothers Jim and John all spent time in the family business: David and John as apprentice boilermakers and Jim in sales.
Various managers helped the family maintain the business over the years with Managing Director, Ken Wilson, being the most successful.
In 1984 the family sponsored a management buyout of the business and allowed Ken Wilson an equity stake together with the Normoyle family and a venture capital wing of Westpac. This arrangement existed for another 5 years until the Normoyle family, by then all living in Sydney, dissolved all interest in the business and the name was changed to National Engineering.